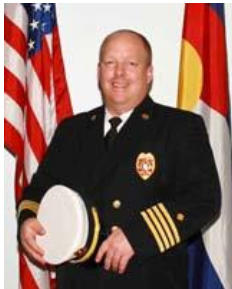 To our Elizabeth Fire District Citizens and Customers,
I am writing this second update to our citizens to ensure that you are getting the most accurate, unbiased information that we can provide. I also want to be one of the first to congratulate you all for doing what you can to slow the spread of COVID-19. In yet another web based meeting we had on Monday, we were informed by our doctors that the efforts to social distance and stay home are working. The curve is starting to correct sooner than what was anticipated. But we can't stop just yet. We need a little more time to get this thing under control and buy some time for our friends and neighbors who will be impacted from infection. All indications we have so far is that our area may be better off than others as a result of our early actions.
Our Current Situation
Elizabeth Fire has seen a slight decrease in all types of Calls for Service. We are still transporting community members with symptoms of the virus, but we do not find out if those patients are positive until the testing process runs its course. Our county health department has been very efficient in keeping us updated on positive cases. To date, we have had to test two paramedics who showed symptoms but thankfully, both were negative. Our decontamination and sterilizing procedures have been working well. We have added disinfecting sprayers and blue UV lighting to our best practices as additional levels of protection. Our crews are still responding with limited staffing to minimize exposure when possible.
Based on recommendations from our health department, physician advisors and state officials, we will now be using respirators and/or surgical masks for all types of medical calls. Please don't worry or be offended if paramedics show up to a broken leg with masks on. They are simply following our latest policy for public contact. We will also be utilizing surgical or cloth masks when in the general public such as grocery shopping, inspections, etc.
Our administrative offices remain open with at least one person in the building per day. Other members are working from home using online technology to get our work done. As part of our continuity of government efforts, we prioritized the ability to work remotely if needed. I am happy to report that we are fully functional supporting our First Responders so they can get their jobs done.
Time isn't stopping and neither are the seasons. We are also preparing our crews and equipment for the impending wildland fire season. All of the fire agencies around the Elizabeth area work very closely together and we all agree that an increased fire danger could tax the agencies even further. We will be looking to you all for assistance in preventing those fires more than ever. If a fire starts, we will use all available resources to keep the fires small and minimize the damage in our community.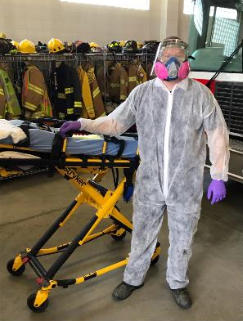 What Do We Need?
I couldn't be more appreciative of our citizens and local businesses that have donated supplies, food and protective equipment. To name a few, Walmart, Big R, True Value, Catalinas Diner, Elizabeth High School Science Department, and Napa have all worked hard to keep us stocked with supplies. We continue to work with The Town of Elizabeth and Elbert County to coordinate messages regarding community needs.
Our local businesses are being impacted the greatest by our efforts to stop the spread. Even during a time where sales are down, they continue to provide essential services. Please do what you can to help them through this time. Our collaborative goal is to get our community through this, get our citizens healthy and get them back to work.
Our Elizabeth Firefighters Community Foundation is currently helping a few families in need and has started a special fund that is dedicated to supporting those local businesses so they can retain staff or simply keep the lights on. We have prioritized making the application process as simple as possible through our foundation website.
Additionally, we understand that staying home can cause anxiety, tension or boredom. Trust me when I say that keeping Firefighters cooped up in a fire station is not our best scenario. They want to be out in the community as much as anyone else. I am asking you to continue with your investment and practice social distancing for a couple of more weeks. Limit your shopping trips and protect yourself while in the public.
It is working. We just need to go a little longer. Together we can do this.
What Can You Do?
If you can, please try to reach out to our elderly and higher risk community members. Offer to shop for them or walk their dog or just take their minds off of things. If you are feeling anxiety or frustration, talk to someone and share. There are a number of resources available at no cost to the public that can be very helpful. We are mandating that our staff gets 20 minutes of sunshine or fresh air per day.
It is indeed everyone's responsibility to wash your hands, mind your social distance and stay home when you can. Spring is almost here and long, warm days are just around the corner.
We ask that you shop remotely with our local businesses if you can. Most of the restaurants are still delivering or providing take-out. Our local stores are trying very hard to provide services in new and creative ways. It is necessary for us as citizens to support the very services that support us. If you would prefer to simply donate funds to help them weather the storm, you can donate online at https://elizabethfirefoundation.com.
As always, I want to assure you all that your firefighters will do everything they can to care for our community members during these very unique times. If you need something, call us. If we can't fix it, we will try to find somebody that will.
Stay safe and healthy,


TJ Steck,
Fire Chief